Description: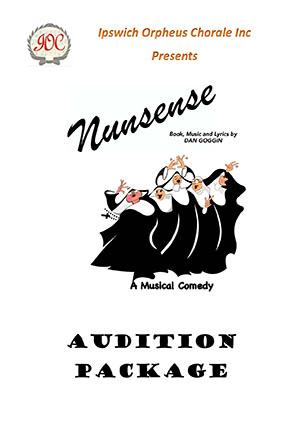 Ipswich Orpheus Chorale is incredibly excited to bring this hilarious musical comedy to the City of Ipswich. Not only is it fantastically funny - but musically, it is both challenging and exciting to sing. We are also delighted to announce Robert Shearer as Director and Sally Grennan as Musical Director to bring to life what will be a truly outstanding musical experience.

Open auditions will be held at the George Hogg performance venue on Thursday 16th December commencing at 7:00 pm.

CAST LIST
SISTER MARY REGINA, MOTHER SUPERIOR: Female, 40 - 60 (Range: B3-F5)
A feisty overweight Sophie Tucker-type who can't resist the spotlight.

SISTER MARY HUBERT, MISTRESS OF NOVICES: Female, 35 - 55 (Range: G3-F5)
The second in command, she is always competing with Mother Superior.

SISTER ROBERT ANNE: Female, 20 - 50 (Range: G3-D5)
A streetwise taught character from Brooklyn. A constant source of aggravation for Mother Superior.

SISTER MARY AMNESIA: Female, 20 - 50 (Range: Db4-C6)
This nun lost her memory after a crucifix fell on her head. She is very sweet.

SISTER MARY LEO: Female, 20 - 40 (Range: G#3-G5)
The novice, who has entered the convent with the firm desire to become the first nun ballerina.