The Ipswich Orpheus Chorale was founded by George Hogg OAM in 1969. The Chorale initially consisted of a small group of dedicated performers (in alphabetical order - Carmel Adcock, Bob Bell, Leah Bell, John Bopf, Norma Fox, George Hogg, Jocelyn Hogg, John Hogg, Don Ingram, Edward McNeill, Ken Mundt, Elaine Nix, George Nix, Margaret Payne, Wendie Payne, Margaret Turner [Humphreys], & Gary Wilson) a number of whom continue to perform with the Chorale today. The Chorale has grown since this time to over 90 members who perform in the various activities it undertakes each year.
The Chorale began rehearsing in St John's Presbyterian Church Hall, Booval, eventually moving in 1980 to its own complex at its current location in a former Uniting Church at 122 Chermside Road, East Ipswich. The main performance space of this complex was renamed the 'George Hogg Performance Venue' in August 2012 it recognition of George's outstanding dedication and service to the Chorale.
The Chorale has performed with great success at the annual Queensland Eisteddfod since first competing in 1970. In its first outing, against the odds, the Chorale won the Chief Choral contest - which was an outstanding achievement considering its formidable and highly experienced opposition. The Chorale was the first among the competition choirs to wear a coloured uniform - a significant departure from the standard white uniform worn by female choristers previously. The Chorale continues to compete successfully, winning the Champion Choir title and numerous individual sections consistently over many years. When the Queensland Eisteddfod's perpetual trophies were retired in the mid-2000s, the Chorale had been so successful that it was awarded all of the remaining trophies outright (including the famous 'Palings Shield', which it was awarded jointly with the Toowoomba Choral Society), and retained naming rights for the replacement trophies. The Chorale's greatest achievement, however, came in 1998, when it won all 8 of the senior choral sections. The Chorale is the only choir to achieve this feat in the over 120-year history of the Queensland Eisteddfod movement.
The Chorale has also been a leader in music theatre in the Ipswich region. The Chorale was the first and only society to date to successfully tackle challenging and spectacular musicals such as Les Miserables (1994 & 2002) and Jesus Christ Superstar (1997 & 2005). The Chorale continues in this tradition with its 2014 production of Miss Saigon.
Profiles
George Hogg OAM AMusA LMusA - Founder and Musical Director (1969-1999, 2010-2012)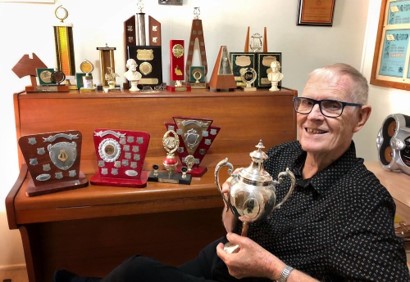 George founded the Chorale in 1969 and was its musical director until 1999. He returned as a co-musical director with Thomas Keenan from 2010-2012.
George's outstanding talent as a choral director and musician is evidenced by both the growth of the Chorale and its success over the years. He is the only musical director in the history of the Queensland Eisteddfod to lead a choir to win all 8 of the senior choral sections at the one competition. He retains an 'emeritus' conducting position within the Queensland Eisteddfod movement, conducting the massed choirs at the Opening Ceremony each Easter.
George's talent extends well beyond conducting. He is a renown soloist and competition singer. He first competed in the Ipswich Juvenile Eisteddfod (now known as the Ipswich Junior Eisteddfod) as an eleven-year-old in 1947 winning a first prize. As a boy soprano, he won many contests in Toowoomba, Ipswich and Brisbane under the tuition of Mrs Myfanwy Sullivan. Returning to competition after a five-year break he quickly returned to the ranks of recognised singers. He studied for five years with Peter Martin at the Queensland Conservatorium of Music and later in Melbourne with Miss Ellinor Morcom.
During his active singing career, he was a frequent broadcaster with the ABC, and soloist with the Queensland Symphony Orchestra, the Queensland State and Municipal Choir, and the Australian Army Band Brisbane. In the Queensland State Eisteddfod, he won a total of thirty-three Championships and twenty-two Champion of Champions Awards. He won many awards in Western Australia, South Australia, New South Wales, Victoria and the Australian Capital Territory. He won the Sydney de Vries Aria, was a Sun Aria Finalist, achieved two places in the Shell Aria at the National Eisteddfod in Canberra, and a third place in the Bass and Baritone Championship at the International Eisteddfod held at Llangollen in Wales. He gave recitals and sang as a soloist with many major choral societies in Victoria.
George has been a teacher of voice for 43 years and in that time has produced many champion singers. His love of performing led to many solo appearances as well as roles in Musical Theatre. George is deeply involved with the Queensland Eisteddfod having been an administrator of five past Eisteddfodau in Ipswich since 1960 and is currently serving his thirteenth year in his second term as President of the Eisteddfod Council of Queensland. As a former Citizen of the Year, George is an active promoter of Ipswich as a centre of cultural endeavour.
Major (Retd) Neville Hammond LTCL - Musical Director (1999-2010)
Major Neville Hammond was born and raised in Charleville and commenced his professional musical career in 1967 as a National Serviceman, serving with the Royal Military College Band in Canberra until 1975. He also performed as a member of the Canberra Symphony and Philharmonic Orchestras as well as the Elizabethan Theatre Trust Melbourne and Sydney Orchestras accompanying performances of the Australian Opera and Australian Ballet.
In addition to freelancing as a musician with many Australian and international shows, he was also active in instrumental teaching, successfully competing in band competitions in various state and national championships. From 1975 to 1978 he undertook a three-year appointment to the Army School of Music where his responsibilities included the instrumental training of musicians as well as teaching advanced courses in harmony, orchestration and aural perception.
Following many appointments Australia wide, including Officer Commanding and Music Director of the North Queensland Army Band, the Band of the Royal Military College, Duntroon, and as Deputy Director of Music for the Australian Army, he became the Officer Commanding and Music Director of the Australian Army Band, Brisbane in 1990. Here he led this fine concert band in all of its official, community, and cultural activities until his retirement from the Army in July 2001. During this time he produced and conducted many outstanding, large-scale performances in conjunction with both professional and community-based cultural organisations and he enjoys an excellent reputation in this field.
It is this involvement with the community, which lead to his appointment as Musical Director of the very successful, highly acclaimed Ipswich Orpheus Chorale following the retirement of its founder and conductor, George Hogg OAM, in July 1999. Following the completion of eleven years as the chorale's musical director, during which time the Ipswich Orpheus Chorale continued to enjoy success in Queensland Eisteddfod competition and in all of its many musical productions, he retired from this appointment in July 2010.
Equally at home in choral, orchestral and concert band genres, Neville has lead a very active and diverse musical life and is an accomplished conductor, arranger and adjudicator. In recent years, as an adjudicator, he has officiated at Queensland Eisteddfod Council and Education Queensland competitions throughout Queensland and at various music competitions in NSW.
Now, looking back on a forty-five-year career in music, Neville regards his time with the Ipswich Orpheus Chorale as one of the most enjoyable and rewarding periods in his musical life. Having initially met the Ipswich Orpheus Chorale in 1990 when, as Music Director of the Australian Army Band Brisbane, he performed at the chorale's annual Celebrity Concert. Little did he know then, that this was to be the first of 21 annual Celebrity Concerts in which he would perform and an association which spans over 23 years.
Neville recalls many highlights, including the enormous pride in conducting the chorale at the highest levels of performance at State Eisteddfod competition, the brilliance of the full stage musicals complete with orchestra, the hilarity of the theatre restaurant, the sheer magic of conducting a 100 voice choir with full concert band in major concerts such as the annual IOC Celebrity Concerts, the Lord Mayor's Galas in Brisbane City Hall, Christmas concerts in Brisbane with the Australian Army Band which attracted audiences growing up to four thousand in four years, the first recording, "Music for Pleasure", produced in the Australian Army Band facility which was a pet project in which he played a major role in the design and construction.
There have been many more highlights, far too many to mention, but most of all, the biggest is reflected in the motivation which has sustained him throughout his entire musical career, "the people and the music", to which he now adds, most importantly, "and the much treasured, enduring, lifelong friendships."
Mrs Margaret Humphreys - Accompanist (1969-1999)
Margaret Humphreys (nee Turner) was founding principal accompanist for the Ipswich Orpheus Chorale from its formation in 1969 and until she and her husband Maurice retired to Caloundra in 1999. Margaret was ably assisted for many years by her deputy, Sherene Gehrke.
Margaret accompanied the Chorale for the full range of choral and solo works for Theatre Restaurants, Concerts, Music Theatre and the annual Queensland Eisteddfod.
The key highlights of her time with the Chorale were its winning all of the Senior Choral Competitions at the Queensland Eisteddfod in Bundaberg in 1998, and the 1994 production of the musical "Les Miserables", which was by far the most challenging and rewarding experience of her musical theatre career.
Margaret's retirement from accompanying in 1999 did not last long as she was called in as an interim accompanist for the Caloundra Chorale in 2000 to help prepare that choir for the upcoming Queensland Eisteddfod scheduled for Caloundra in 2001. She continued on as principal accompanist for the Caloundra Chorale until her further semi-retirement in 2013.
Margaret currently accompanies and organises the Caloundra Chorale small group that does the nursing home circuit.
Margaret started serious music lessons at age 9 with Margaret Jones (nee Stockwell), transferring to Ruth Robson when Margaret Stockwell married. She started accompanying choirs at age 14, as deputy pianist with the Intermediate Ipswich Choral Society under the baton of Myfanwy Sullivan, and then moving to principle accompanist at age 17. She continued in that role for four years in the early 1960's.
Margaret was an individual competitor in her early years at local eisteddfodau. In later years she competed as both choral and solo accompanist at local eisteddfod as well as similarly competing for 58 years on the Queensland Eisteddfod circuit.
Tribute to Helga McCutcheon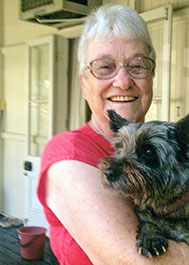 Helga McCutcheon is remembered by all members of the Ipswich Orpheus Chorale with great affection and admiration. Helga joined the Chorale in 1992 competing in her first Queensland Eisteddfod with the Chorale in Toowoomba. She was a very skilled Alto with a beautiful voice able to harmonise very well. Helga was also known for her comedic acting capabilities – the 'HAM' of the Chorale. Helga strutted her skills on the boardwalks performing the role of a convincing prostitute in Le Misérables, a mother in Fiddler on the Roof and was part of the Von Crap Family in a number of our theatre restaurants. Having been born in Austria Helga was partial to sharing her considerable yodelling skills at various events and concerts.

For over 28 years Helga was a dedicated chorister and volunteer, always there to help when required. For many years she organised the afternoon teas for the Chorales Pleasant Sunday Afternoon Concerts. With her boots and all philosophy, Helga held a number of roles on the Chorales Management Committee including Assistant Librarian and Subscription Secretary ensuring that our loyal subscribers were able to attend shows and concerts. Helga will be greatly missed for her cakes, slices but most of all her jams and chutneys which sold like hotcakes at concerts and contributed to the overall fundraising of the Chorale.

We will miss Helga's vibrant, dynamic and always happy personality within the Chorale.